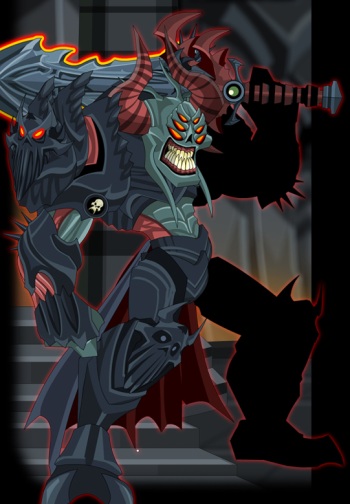 Location: 
tercessuinotlim
Level: 100
Difficulty: 5 Stars
Total HP: 100,000 78,560
Tempoary Items
Edit
N/A
Items Dropped
Edit
Bone Rifle
Clavic Daggers
Nulgath's Seal of Approval (Dropped during the 'Defeat Nulgath' Quest)
Spear of 100 Bodies
The Fibulious Sword
Treasure Chest
Previously called 'Miltonius' (Monster)

Will say, "I'll be back" when defeated. (Nulgath)

Will say, "HaHa! You Hacker" When defeated (Miltonious) (Rare)
Ad blocker interference detected!
Wikia is a free-to-use site that makes money from advertising. We have a modified experience for viewers using ad blockers

Wikia is not accessible if you've made further modifications. Remove the custom ad blocker rule(s) and the page will load as expected.